Dr. MacKenzie's "Ink Polygraph"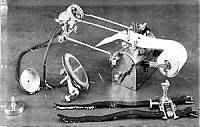 In 1906, we find the first mention of a "polygraph" instrument. In an article for the British Medical Journal, Lancet, Dr. James MacKenzie described his "Ink Polygraph."
A heart surgeon, Dr. Mackenzie used this polygraph when giving medical examinations. Although never used as an instrument for detecting deception, it is the first know instrument which contained the essential features of present day instruments.
There are no known copies of MacKenzie's "Ink Polygraph" outside of National Museums.
MacKenzie-Lewis "Polygraph"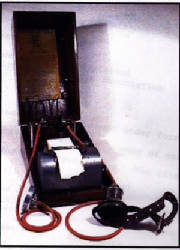 McKenzie-Lewis Polygraph
It was originally developed for more serious blood circulation studies. The one was manufactured by the Cambridge and Paul Instrument Company in England (numbered L-9335). The clockwork mechanism for advancing the paper roll works well, as does the time marker, although this is missing it's pen. The two pens which track the venous and arterial movements are also missing. More importantly, both of the "tambours" to which they connect are present and complete, although one lacks it's diaphragm.
This medical instrument was key in the design of early polygraph instruments. Many of it's details were reproduced in the early days of lie detection.

$1000, plus shipping and handling.